In 1973, a young American designer named Halston was invited to Paris to take part in the famed yearly Versailles fashion show. Up until that point, French and Italian designers and couturiers had ruled the roost in the iconic showing every year, and so when Halston (along with American designers Bill Blass, Oscar de la Renta, Stephen Burrows, and Anne Klein) was invited to participate, it was a pretty f*#kin big deal.


The French had historically showcased their clothes with ornate fixings including sets, dancers, and more; usually employing their best talent from the ballet and theatre to help introduce the clothes. The Americans on the other hand preferred sparse, sleek, bare runways on which their modern-esque models stalked with style. (After all, the clothes were the focal point in their eyes, and so the extra stuff was purely unnecessary.)

On that fateful night back in '73, the Americans experienced a turning point in the world of fashion. After the American designers' show concluded, the place went wild. Everyone in that room knew at that moment that the Americans had officially taken the fashion world by storm. THEY were now trendsetters. THEY were now envied. THEY were undoubtedly the winners in the "Battle of Versailles" (how the night was jokingly referred to from then on). And much of that ballyhooed arrival was thanks to the simple Southern boy turned King of Glamour, Halston.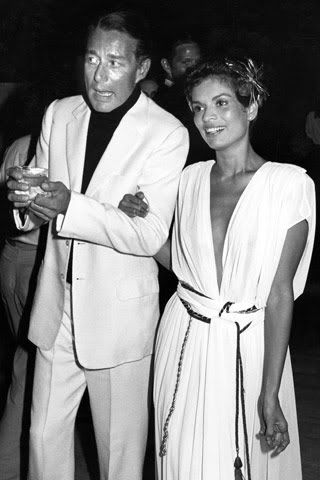 (Above) Halston, with Bianca Jagger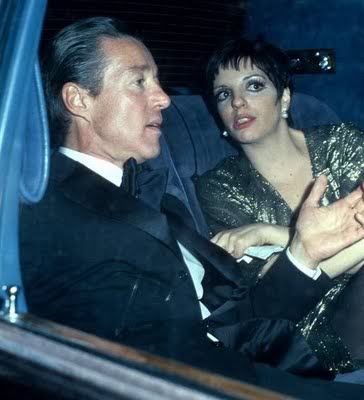 (Above) Halston, with Liza Minnelli in New York, 1974
In Whitney Sudler-Smith's new documentary "Ultrasuede: In Search of Halston", we meet many of the designer's close friends, cohorts, protegees, and designers who were inspired by his vision. Halston (born Roy Halston Frowick) lived a life of elegance, excitement, and joie de vivre from sunup to sundown. From his excessive office/showroom space flanked by huge windows and covered in mirrored walls and doorways, to his modern townhouse where many-an all-night dinner party was held; Halston was "f*#king them up" regularly. (Best friend Liza Minnelli affectionately remembers that phrase used by Halston to describe his way of living. "We need to f*#k them up. Give them what they aren't expecting.")


From Halston's discovery of the fabric "ultrasuede", to his ability to create strikingly beautiful feminine dresses without the use of any patterns, to his partnership with jewelry designer Elsa Peretti, to his legendary nights at Studio 54; this film covers it all with flair. Whitney Sudler-Smith deals with the larger-than-life eccentric personalities he interviews with a shy, almost surprisingly gracious undertone, which leaves the viewer feeling grateful towards him in the end for bringing them such an important story.

Sudler-Smith leaves the Halston biography behind briefly to explore the 70s in NYC as a larger influence on fashion and decadence amongst the celebrity set. The director illustrates the powerful juxtaposition behind dangerous and gritty street scenes surrounding the lush party atmosphere at Steve Rubell's Studio 54. He hints at the possibility of the hard party-lifestyle becoming the norm as a direct result of fear throughout the country at that uncertain and often scary time. Many of his interviewees agree.


(Above) Halston, with Bianca Jagger and Liza Minnelli in Studio 54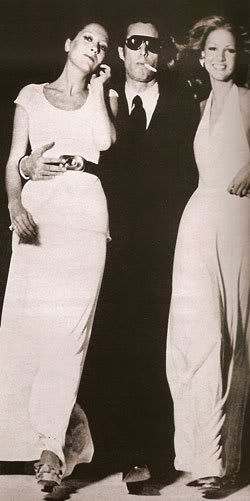 (Above) Halston, in his natural habitat, flanked by beautiful models
Unfortunately, all good things must come to an end, and I mean that as much for the film itself, as I do for Halston's meteoric rise to the top of the fashion industry, and his life in general. Sudler-Smith briefly touches on Halston's demise at the end of the film, but instead chooses to focus on his gargantuan influence on fashion, celebrity, and living the glamorous life (complete with an entourage full of beautiful models dubbed the "Halstonettes" who traveled with him everywhere) throughout much of the film. The balance is perfect. Liza pleads with the director at the beginning of the film to "ignore the seedy rumors and focus on the good stuff", but of course the movie would be incomplete if he had chosen to completely omit the downfall and sad end to a beautiful life. Instead, Sudler-Smith approaches the topic with class and tragic reverence.

Interestingly enough, many believe in the film that Halston's partnership with lower-end retailer JC Penney at the peak of his success was the tipping point towards obscurity (although I believe the "new money" move away from the 'less is more' approach in the decade of greed definitely had a lot to do with it as well). To think that 30 years later everyone from Jimmy Choo to Anna Sui to Chanel to Roberto Cavalli are clamoring to partner up with inexpensive retailers such as Target and H&M for brief, exclusive, lower-priced lines in order to expand their reach to admirers with less cash says a lot for one of the pioneer partnerships.

Thankfully, Halston seems to be in the midst of a recognition revival. Not only has this brilliantly entertaining and informative documentary premiered at the Tribeca Film Festival, but clothes inspired by Halston's most popular designs are being featured in the upcoming movie "Sex and the City 2" through the new line Halston Heritage. (It's only right - Sarah Jessica Parker has just been tapped to join the newly launched label as Creative Director.) The Halston Heritage pieces range from $300-$1000 and will be distributed through high-end department stores and retailers.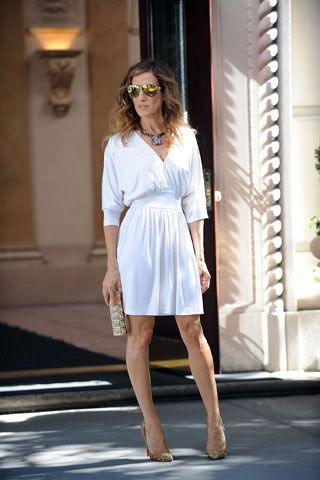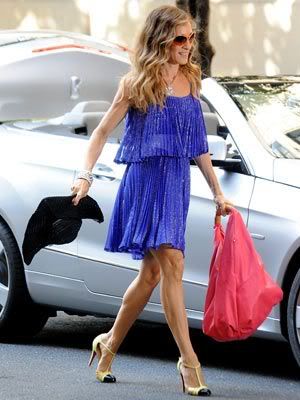 (Above) Sarah Jessica Parker, filming scenes from the upcoming "Sex and the City 2" wearing Halston Heritage
"Ultrasuede: In Search of Halston" premiered at the Tribeca Film Festival on April 30, 2010. For more information on future screenings and release dates, visit the official site for the movie here.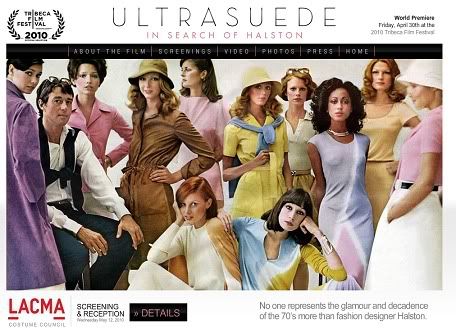 I HIGHLY recommend this film to anyone interested in Halston, fashion, NYC, the 70s, Studio 54, decadence, debauchery, and pretty much all else. :)

With this documentary, Whitney Sudler-Smith has paid homage to a deserving fashion icon in an amusing and conclusive fashion (no pun intended).