By now, many of you know that "
The Real Housewives of New Jersey
" wasn't Dina Manzo's first foray into reality TV. Her and her husband Tommy were featured on VH-1's "
My Big Fat Fabulous Wedding
" (screenshots below) when they were planning their own nuptials at The Brownstone (the Manzo family business). Supposedly that one appearance turned Tommy off to reality TV forever, and so that's why he (allegedly) chose not to be featured in RHONJ Season 1.
However, sources are
now whispering
that Dina and Tommy have in fact been separated for a while, and that he lives in an apartment close to The Brownstone with his much younger girlfriend. I want to believe that these (unsubstantiated) rumors are just that. After all, Dina periodically mentions her husband on her Twitter account ("
out to dinner with my hubby
", "
my husband bought me an iPad weeks ago
", etc.) and they are connected for life since Dina's sister Caroline is married to Tommy's brother. But then something struck me as odd when Season 2 started two weeks ago. In the character promos which grace the screen before each lady's segment begins, the women (in all regions and seasons of the show) pose with their families, kids, significant others and/or pets. Dina now stands alone. Sources have said that the blow-up at at the reunion (where Caroline cried about something terrible Danielle did to Dina) was connected to a subsequent block by Dina's ex-husband towards their daughter Lexi's future involvement with the show. If that's the case, then it explains Lexi's absence, but Tommy? Hmm. He wasn't on Season 1, so it would make sense that he would also be omitted from Season 2.
Then again, maybe the break-up rumors are true. After all, when I dug up their episode of "
My Big Fat Fabulous Wedding
", I saw that [1] the show introduces him as a "casanova", [2] Tommy admits that he cheated on Dina SEVERAL times before they were married (yuck) and that, [3] he married her because "it was just time to marry her". Wow. He doesn't really come off as much of a gem. My favorite line is when Dina complains that Tommy is randomly inviting hundreds of people to their wedding and his reply to her is: "
it's not my problem you don't know nobody
".
I don't know about you, but there's something about Tommy that reminds me of a cross between Kenny Bannerman (the sleazy married businessman who had an affair with Valerie Malone on "
Beverly Hills 90210
") and Artie Bucco (of "
The Sopranos
"), no?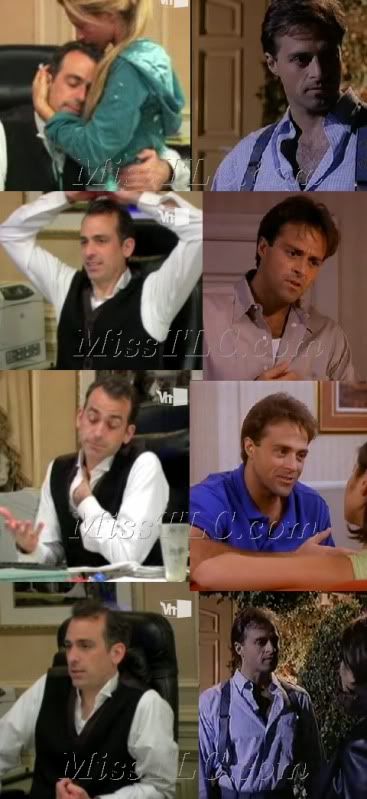 Not to mention that Dina is unbelievably nicer to Danielle this time around. She seemed to connect to her when she said that she felt bad with what she was going through in her bitter divorce and impending sale of her house. PLUS
Dina recently underwent a breast reduction
, which was something she said she had wanted to do her whole life, but that her husband Tommy was "a breast man". Hmm...
Look, I SERIOUSLY hope that all of this just remains unfounded speculation. No one should have to go through a divorce, and I honestly wish that people would just settle down and cut it out with the cheating. Marriage is a tough, but beautiful thing, and grown-ups should stick it out with the one they love.
Good luck Dina & Tommy!
(And if it don't work out, hold out for the right one Dina! You seem like a genuinely sweet, beautiful person and you deserve it!)